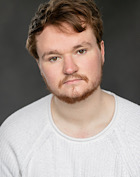 Charles trained as an actor at Bath Spa University, and then went on to complete an MA in Performing Shakespeare.
Charles is a versatile actor, performing in multiple accents, genres and styles, from conventional plays to immersive children's theatre. In 2019, Charles performed the role of Lysander in a slapstick version of A Midsummer Night's Dream by the May Players. He also acted and one-handed puppeted in the role of McJingles in Eskimo Jo's Believe: The Magic of Christmas, in 2021. He has also performed in some short films.
He has shown particular strength as a comedy performer. In 2021, Charlie toured Rock Bottom, a one-person show which he wrote and performed, to Fringe venues around the UK. The tour was a success, with many audience members engaging with the versatility of the tragicomic performance.
In 2022, Charles will be performing Rock Bottom at Edinburgh Fringe, in The Vault at Paradise Green. He is also playing the role of Snowy in Milked by Simon Longman, as it tours small theatres.
Reviewers comments:
"Day's charming and impressive affinity for comic performance" – Action is Eloquence
"Day is a charming performer and a good actor to boot" – View From the Cheap Seat
"helped in no small part by Day seriously knowing his Shakespeare" – Action is Eloquence
Showreel