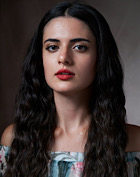 Isabella Bonfante is a London-based bilingual actress and singer who recently appeared on the feature film "Sergeant" directed by Prawaal Raman. In March, she released her first original song, winning several awards among which "Best Music Video Award" at Emerging Lens Cultural Film Festival in Halifax, Canada.
She spent her childhood in Tokyo where at the age of seven she began modelling professionally. In high school, she attended a technical institute in Sicily (Italy) where she obtained an ICT Expert Diploma, winning Math and Coding Olympiads. At the same time, she started getting involved in local Theatre productions, landing principal roles in Ancient Greek plays. Her interest rapidly shifted to film acting. She began creating and uploading short films on YouTube regularly until she was discovered by Italian TV presenter Valentina Spampinato, who grant her a full scholarship for Metodo Pass Italia. She has been trained in a two-year Performing Arts program and specialized in Acting. Her training includes guitar, ballet, modern, waltz, hip hop, pop singing, opera and choral singing.
Isabella is currently enthusiastically post-producing her new historical fantasy short film "The Land of Broken Castles", which she wrote, directed, and performed in.