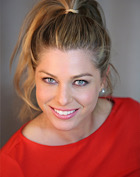 Julia Helbich is a proven talent as an actress in multiple television productions ("Tatort"), as a TV presenter, speaker, and model.
She comes from a well-known family of artists, which encouraged her musical abilities, movement, voice and listening training from an early age. She is both versatile and professional, with a diverse repertoire, with roles ranging from a youthful and athletic mother,  a powerful secret agent with sex appeal to a mysterious and romantic businesswoman.
Julia is equally at home in either the German or American cultural landscape and has gained experience as TV presenter and interviewer focusing on internationally known athletes. Her confidence in the English language also makes her valuable for international assignments, as she has developed her own interview style with well-known personalities in sports (e.g.: NBA players), entertainment, and news.
The German-American actress Julia Helbich invests her roles with strong character over a range of roles, surprising audiences with her expressive variety. She is also deeply experienced in commercial modeling and music video work.