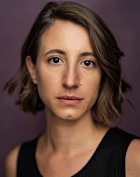 Léa des Garets is originally from Bordeaux, France, but is now based in London. She is fluent in English (native proficiency) and can speak Spanish and German.
Léa has been acting professionally in the UK since 2018, on both stage and screen, and as a voice actor.
On screen, she played the title role in 'Gisette', for which she received an award for Best Actress (Short Stop International Film Festival 2020). Her other screen work includes the lead role of Anna in 'Only Tonight' (dir. Edoardo di Lauro), Beatrice in 'Sabbatical' (dir. Aline Jewell) and Madeleine Proust in the web series 'The Butterfly Beat' (dir. Doug Hewett).
Her theatre work includes the parts of Katherine in Lisa Blair's production of 'Henry V' (Cambridge Arts Theatre), Isabelle Azaire in 'Birdsong' (dir. Anastasia Bruce-Jones), Sarah Box in 'Foxfinder' (dir. Hannah Sands), Camille in 'Horace' (dir. Patrick Boyde), Inspector Pissani in 'Accidental Death of An Anarchist' (dir. Atri Banerjee) and The Woman Who Loved to Make Vaginas Happy in 'The Vagina Monologues' (dir. Eva O'Flynn) .
She also performed in the Arts Council-funded tour of Mykola Kulish's 'Maklena' (dir. Maria Montague) with Night Train Theatre Company, an international ensemble that she co-founded with Cambridge graduates, and in which she is both an actor and a producer.
She recently recorded a Voice Over for the NETFLIX docuseries '(Un)Well'. She has also been collaborating with casting directors, directors and writers on a mock casting platform called 'Fakedown' that she co-founded.