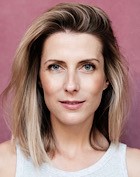 Maria is a Polish actress with an international background. She is an alumna of the Lee Strasberg Theatre and Film Institute in New York where she was taught by such actors as George Loros (The Sopranos) and Paul Calderon (21 Grams).   She is also a graduate of the Acting Studio in the State Jewish Theatre in Warsaw ( 3 year conservatory) and this is where she made her stage debut ("Between Night and Day.
Dybbuck" by Szymon Szurmiej).
Maria has extensive Film, TV and Theatre experience. Her film credits include; "Kochaj" " Czowiekz Magicznym Pudełkiem", "Dariusz", "Pokolenie Ikea" and the upcoming "Biała odwaga". Short film credits include titles screened and award winners at International Film Festivals such as: Los Angeles Indie Short Fest, One-Reeler Short Film Competition, Short to the Point International Film Festival, Porto Fashion Film Festival, Chelsea Fashion & Film Festival ("Blackness", "Champion" and "Julia.13 grudnia").   Maria was also a series regular on TV shows such as: "Wrytmie Serca" (Aleksandra, the nurse) as well as "Rodzinny Interes" (Hanka "Osa" Ossowska, a troubled police officer).
Currently she is a regular on a socially engaged online series "Dramatize Me" with over 2.3m viewers, where she plays a variety of roles.  Her theatrical credits include "Julia" directed by Lola Cohen at the Marilyn Monroe Theatre in New York, "King Lear in Polish" directed by Jerzy Gruza in Scena Sam in Gdynia/Poland and many others.
In addition Maria has been appearing in numerous advertising campaigns across Europe.  In her spare time, Maria practices ashtanga yoga and is very keen on race cycling, skiing,
snowboarding, ice skating and dancing. She speaks fluent Polish and English as well as a
good command of German.
Before pursuing her acting career, she gained an MA in Economics at the Warsaw
School of Economics