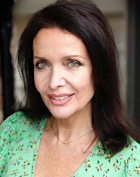 Miranda is an Actor, Voice Over Artist and Producer. Her acting credits include lead roles in the premiere of Bill Kenwright's theatre production, Intent to Kill, written by Ted Willis, playing the Greek tycoon's wife, Kristina. Lee Menzies/Nick Salmon production of Towards Zero, opposite Michael Cashman, as the highly strung, Kay. Concert for Peace (Drury Lane Theatre). Her screen credits include:
Film: Michael Winner's production of Bullseye, opposite Roger Moore and Michael Caine;
TV credits include: The History of Mr Polly (BBC) Surgical Spirit (as Mrs Hudson,Granada TV) Oddbods, (C4 )Murder Mystery short film for Little and Large (BBC) as Charlotte Ponsonby-Smythe.
Miranda has been the voice behind many leading campaigns, including: Bosch; Ford; M&S;
Fiat; Salon Selectives; Mars; Go Cat; The Times; The Mail on Sunday: Olvarit; Holland and Barrett; Kelloggs; Prudential; Bachelors Cup-a-Soup; Renault; Sex and the City (Radio).
Her broadcasting credits include:
The Money Programme – Narrator/Presenter (BBC) Naked London – Narrator and Critic's Choice (Channel 4) Granada Sports Documentary/Narrator (Granada TV)
China. The Dragon's Ascent (ITV)
Continuity/Lead in (BBC and Channel 4)
TFI – Presenter (Channel 4)
Miranda produced, devised and cast a charity performance of Shadowlands (William Nicholson) directed by Jeremy Sams at the Pinter Theatre, with Charles Dance, Janie Dee and John Standing, in aid of Nepal. This went on to become a successful West End run .