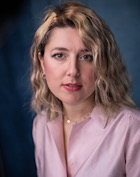 Nia is a Lithuanian/Russian actress who is from a theatrical family. She is well travelled and has lived in Lithuania, Greece, Cyprus and England and can speak four languages.
Nia graduated from University of West London in 2011 with a BA (Hons) Degree in Acting.
Since graduation she has gained both screen and theatre experience, performing in farce, pantomime, Jacobean drama and Russian classical theatre, as well as contemporary drama.
She has also had her own successful business since 2016, working as a children's entertainer, where she uses her acting and performance skills. She can easily be a clumsy clown or a beautiful Elsa, to provide children with memorable and joyous experiences.