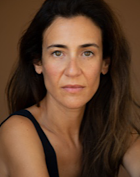 Rita Revez moved to London to pursue acting and trained at RADA and Arts Ed. She now works and lives between London and her native Lisbon (Portugal). As well as Portuguese and English, Rita is fluent in Spanish (native level), can speak French, and also has basic Italian and Finnish.
Her screen credits include 'Marta' in Luis and Marta Work Together (dir. Alois di Leo), which is available on Amazon Prime and was part of the official selection at the Raindance Film Festival, 'María' in The Conductor (dir. Xavier Guignard), 'The Maid' in Meanders (dir. Tereza Srbová) and 'Olivia' in Empty Hands (dir. Paolo Marinou-Blanco).
Her theatre credits include 'Clothilde Pontagnac' in The Sitting Duck (dir. Celia Williams), 'Dimeena' in Hungry Jack's (dir. Hanna Berrigan) and 'White' in Strange Fruit (dir. Netia Jones).
Rita is currently filming a mini-series for RTP (Portuguese state channel) and in which she has a lead role entitled PRISMA.