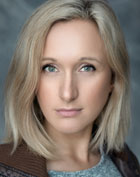 Roz Brierley studied acting at Sylvia Young and The Actors Centre, London. She also completed an intensive comedy improv course in London with The Groundlings.
Her short film roles include Katie in Caffeine Kick (Ashley P Saunders), Jan in Gold (Cleo Samoles-Little) and the mum in Taciturn (Ellie Bindman).
Roz's television appearances include shows such as Marley's Ghosts (Objective Productions) Top Coppers (BBC Three), and she played the role of Jeannie in the play In Cahoots (Bridewell Theatre, London).
In addition Roz is much in demand for voice over work that includes the voice of the mum in the Christmas Amazon TV commercial 2018.