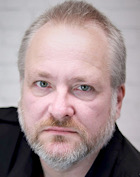 Steve started his acting career in a Scout Gang show aged 14 and has spent the last 36 years
covering all aspects of stage work from Shakespeare, Chekhov & Practchet to musicals and even
the Panto Dame.
His Credits include DCI Mills in the short film "Lycanthropy" just selected to be shown across
North America. The butcher in "Alice through the.." for 12th Battalion productions and Henry
VIII in the première production of "An evening with Sir Thomas More" by Wendy Reynolds.
He filmed "A Winter BBQ" with Action on the side in March 2020 and has just completed work on
Trainangle a new musical from Students at Goldsmiths College set in a train carriage.
He regularly trims, grows or shaves his beard depending on the needs of the role.