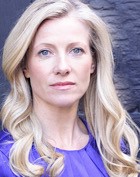 Tanya trained at The Royal Central School of Speech and Drama for three
years on the Acting course and received a BA Hons in Acting.
Tanya's work includes playing Sharon in the feature film 'Jack the Giant
Killer' for Asylum Films, Natalie in 'Edie' with Sheila Hancock, Meryl in 'To
Love Someone' Cara in 'Drake', Laura in ' One Fine day, Emma in
'DayDream'.
Tanya"s Theatre credits include the 3 hander play 'National Anthems' by
Dennis McIntyre playing Leslie for The English Speaking Theatre of
Hamburg, Georgina with Felix Dexter in 'Lucky You' at the Unicorn Theatre,
Blanche Dubois in Interior Panic and The pretty Trap in 'Four by Ten' by
Tennessee Williams at The Drayton Arms. Julia in 'The Duchy of Malfi' at The
Greenwich Theatre. Paulina from The Winter's Tale for Theatre Nomad,
Kitty/Nan in 'Serendip' for The Bike Shed Theatre in Exeter, Mistress Quickly
and Lady Percy in Richard II, Henry IV 1&2 and Henry V for 'Shakespeare
Happens' at The Scoop Theatre London. Hermione In The Winter's Tale for
The Greek Theatre Players, Mary in the York Plays and Mary in the Corpus
Christi plays at The great Bartholomew Church London.
'One' by Simon Stevens where Tanya helped write and create the part of
Marie-Louise.
Tanya's TV credits include Carole Packman in the ITV 4 week Docu/Drama.
She reads in Shakespeare play readings once a month and has read all the
female principal parts.
Radio, working with Clive Brill on all 38 Shakespeare plays and acting in 'The
Winter's Tale'.
Tanya has just finished playing Maria in Twelfth Night for the pod cast called
'Stepping into Shakespeare'.