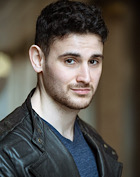 Tom Sharkey is a British/French actor with Irish/Lebanese roots based in London.
He has studied in France (Cours Florents), and Dublin (GSA, Meisner at Momemtum Studio) before moving to London in 2020.
Besides a tremendous amount of studying and an esurient need to perfect his craft, he has acquired proper empirical experience through :
-Stage : Porte 39, People Places and Things, Three Bags groups original plays
-Short films : Medial Aids, has collaborated with Slickshowreel Production and director Louis Russell on now 5 occasions.
-Features : We Ourselves by Paul Mercier, Spears by Gerard Lough.
Tom has the work ethics, enthusiasm, clarity of purpose and commitment to bring an intrinsic, powerful performance to the screen and the stage.