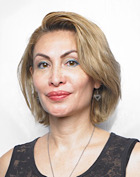 Blaze Lovejoy is a Hollywood screenwriter, filmmaker and actress. She was raised in England, where she worked as a journalist and environmental campaigner, before moving to Los Angeles to focus on a career in film.
Blaze's first features were 'God's Waiting List' and 'Actual Images: The Valley Murders,' which she produced in partnership with Duane Adler ('Save the Last Dance') and penned and acted in. The former, an urban drama starring Roger Guenveur Smith and Nicki Micheaux, won awards on the festival circuit; the latter, a horror/satire, marked her directorial debut.
With her company, '3-Hole Punch Productions,' she is currently in post-production on a horror-comedy, 'The Zompocalypse Therapy Sessions.' She wrote and shot the project with social distancing in mind, and its humour very much reflects a pandemic situation.
Blaze has also worked as a writer on the T.V. show, 'Chicken Soup for the Soul' and co-authored a self-help book, '101 Ways to Get Into Heaven,' with novelist Ben Peller. She was a co-producer on the film, 'Make Your Move,' starring dance star Derek Hough and 'Queen of K-Pop,' BoA.
In addition to ongoing assignment work, Blaze has a slate of horror and sci-fi films that she is working towards, along with some documentary projects.
Blaze thrives on creating edgy, thought-provoking material and heartfelt characters. Her background in campaign work gives her a passion for meshing social concerns with entertaining content.