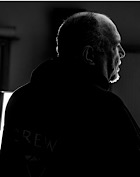 Chris Barfoot MA is a highly gifted writer and director. He produced a plethora of films- finding international acclaim before attending University and graduating with a BA (Hons) and MA in Film Production.
Much of Chris' early works originated on 35MM or S16MM and were complex featurettes- set in multiple locations with exceptional production value. Chris brokered deals with broadcasters such as ITV, NBC Universal Sci/Fi Channel and Sky Movies.
He has thus far picked-up eleven international awards including gongs from LA and NICE and has been nominated at prestigious festivals- 23 times- for his expertly crafted multi-genre films and screenplays.
Chris also produces scripts as a 'scribe for hire'…