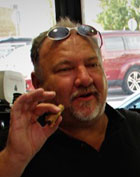 Multi award-winning writer and director – Christopher J. Barfoot MA, has produced classic mini-features for many years and his films have been shown on ITV, NBC Universal Sci/Fi Channel and Sky Movies.
Christopher has won four U.S Worldfest Remi awards and a First-Place (plus an Honourable mention) at Dragon Con – this led him to invest several years in developing full feature screenplays.
His award winning short film the horror/fantasy classic 'The Reckoning' received the highest 'NBC SCI FI Channel' viewing figures ever, as well as winning 'Sky Movies' top ten short films of all time.
Christopher left Highbury College (Portsmouth) with a B-TEC Diploma in Media Design and produced comedy sketches for (ITV) until writing and directing 'Phoenix' starring Prunella Scales. Next came the legendary 'Dead Clean' starring Shane Richie, Andrew Sachs, Leone Samson and Mark Chapman.
He has also found the time to direct digital commercials; his most recent being for Pepsi.
As well as being a scribe for hire, Christopher is also prepping his own self-penned feature slate, including 'Hell's Gate' aka 'The Hounds at Hell's Gate' – a screenplay that won a gong at the L.A Film Festival, it was also shortlisted at the Beverley Hills Film Festival and was a recent quarter finalist at Scriptapalooza.