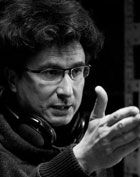 Jarek Marszewski trained as a film director at FAMU the film academy in Prague and graduated from the Faculty of Radio & Television at the University of Silesia in Katowice.
Jarek's early short films have received over 20 prizes at various International Film Festivals including Berliner Tango, Grand Prix at the World Short Film Festival in Belgium.
As well as film making Jarek continues to work in television directing drama series, tv shows and operas.
Jarek's feature film Bikini Blue, which he wrote and directed, received a Grand Prix at the Script Pro in 2015, and is currently gaining world recognition at major film festivals including New York, Los Angeles and Mexico.
Red Door Vision are proud to announce we have secured a world wide distribution deal with the House of Film ( L.A ) for the stunning feature film Bikini Blue.