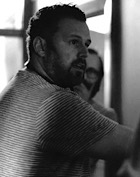 Multi award-winning writer/director Shaun Robert Smith studied Film & Television at Stamford College and later at Birmingham Metropolitan College. He has been working in films for some 20 years starting as a prosthetics makeup artist before graduating into editing and eventually running a production company making television commercials for Coca Cola, BP and others as well as high end music videos.
He also moved into writing/directing short films including The Forgotten Ground and This Place. He directed the web series Naomi Donne's Made Up Stories for Goldfinch Entertainment and was prosthetics supervisor on Shane Meadow's This Is England, The Devil's Dosh starring George McKay for Infidelis Productions and The Hooligan Factory for Think Big Productions.
Shaun's first written and directed psychological thriller Broken, starring Morjana Alaoui, Mel Raido and Craig Conway, premiered at London's Frightfest in August 2016 to rave reviews resulting in Shaun being nominated for Screen International's Rising Star award:
One of the most powerful British debuts I have ever seen – Alan Jones
Where Broken excels is the extraction of intense characters and genuine atmosphere … a gratifying immersive experience – Trangressive Cinema
A stunning tour-de-force by director Shaun Robert Smith featuring brilliantly fearless performances, especially from star Morjana Alaoui this unique thriller is a 2016 highlight – Britflicks
Anchored by a harrowing performance from Alaoui, British director Shaun Robert Smith's Broken toes the line between psychological dread and explosive horror right up to its you-gotta-see-it-to-believe-it ending – Brooklyn Film Festival Review
It's a beautifully made film and director Shaun Robert Smith has crafted set pieces that get under your skin and make you feel for our heroine. We know where this I s going and why and we completely understand when it all goes to hell why it does – Unseen Films
Broken went on to screen at Grimmfest in UK, Boston Film Festival in the US where it picked up 'Best Feature Film' award & The Brooklyn Film Festival in the US. It is currently being
distributed on all platforms in the UK by The Moving Picture house, North America by E1 Entertainment, Canada by Sony Pictures and many more.
Shaun has several other films in development currently including The Under Men based on his award winning short, The Soldier which won Best Film, Best Cinematography, Best Visual Effects and Best Editing at The London Short Film Festival in 2007. Set 13 days after the D-day landings, the film explores the consequences of the Third Reich's disease testing experiments. The Soldier was granted a theatrical release in 2008 by Showcase Cinema's. Ages of Ages is a psychological thriller exploring the effects of Postpartum Psychosis based on an earlier short film This Place which was awarded Best Feature at the Leeds International Film Festival.